MJ THE MUSICAL Is A Deep Look at the Man In The Mirror

On August 29th, the day of Michael Jackson's birthday I sat in the audience of the Nederlander Theatre to see MJ The Musical. It is now one of my favorite musicals I have ever seen.
The show takes place in the rehearsal studio before the Dangerous Tour.  We see the behind-the-scenes of putting a multimillion-dollar tour together.  From the marketing, sets, choreography, costumes, and props.
I have seen many Michael Jackson impersonators.  I was expecting that same type of vibe.  When Roman Banks stepped on stage, he was not impersonating Michael Jackson, he was the spirit of Michael Jackson.  I had interviewed Roman several months before the show opened and I kept looking for the young man who sat next to me and laughed and had a conversation with me.  He wasn't there. I never saw Roman peak through which made this production so amazing to me.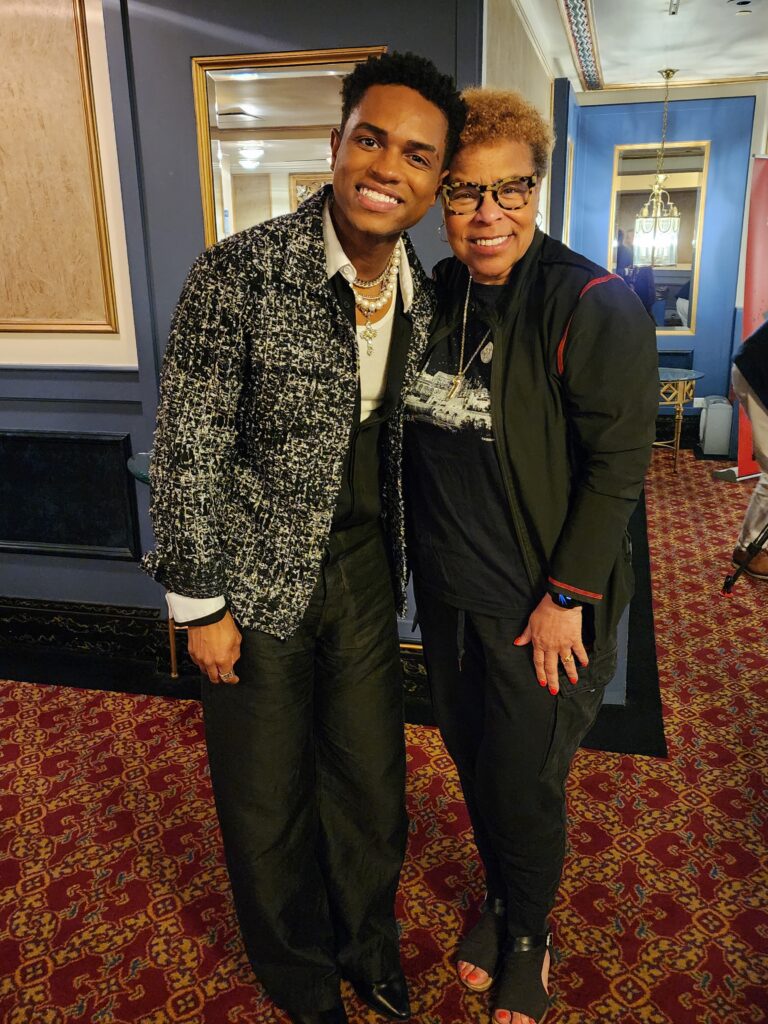 When I first spoke with Roman, I asked him how he was going to step into the role of Michael. He responded: "I hope people can see when they do come and see the show, is that I'm giving you Roman through Michael's essence because I can only ever be me. God already made Michael Jackson, there's a one-of-one. I'm never going to be Michael. And I know that and accept that and welcome that. And instead, I want to show you Michael's essence through me and hope that that's exciting and fulfilling on both accounts."
The show is very high energy and covers MJ's life from the beginning of the Jackson 5 to the start of the DANGEROUS Tour. Every actor who plays the younger MJ is spectacular. On stage, they are seamless in voice, posture, and personality. You can easily see the older MJ and the Little MJ on stage together and there isn't a big separation.
The musicians, vocals, and choreography are amazing. I have to admit I was tired at the end of the show. How they kept their stamina up during the dancing, quick changes, and singing was mind-boggling. So many times, in musicals the focus is on the dancing and songs but MJ The Musical also focuses heavily on the acting and telling the story of this Iconic man.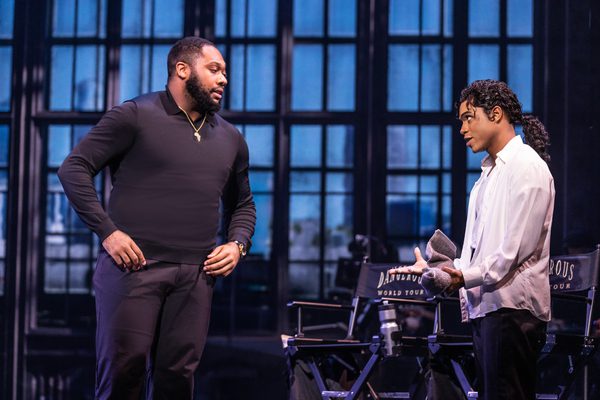 Devin Bowles plays both the Production Manager Rob and MJ's father Joseph.  In some scenes, he has to switch between the two characters in a matter of seconds.  Most of the cast play three or four roles while singing and dancing.
We, the audience, got involved because we couldn't help but sing loud to our favorite songs.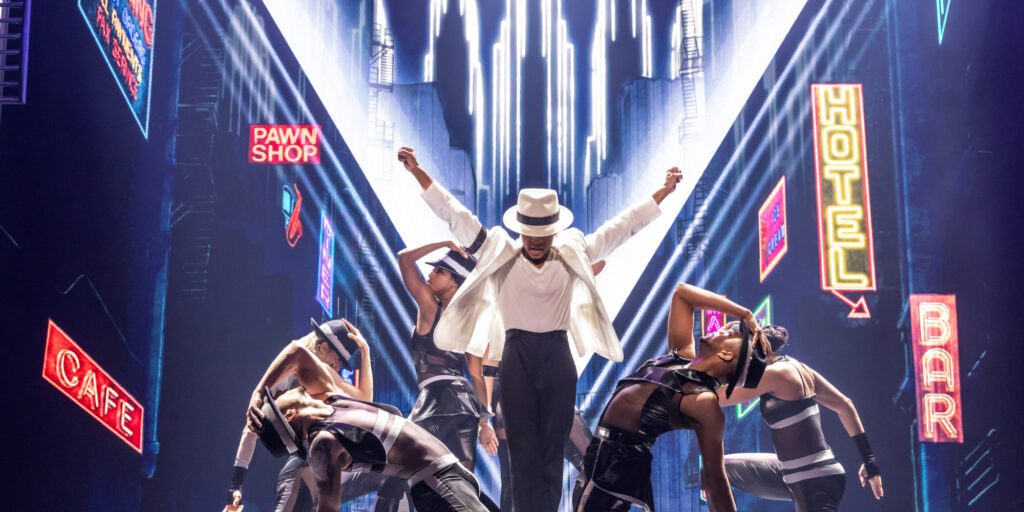 I asked Roman what the hardest dance and song was to learn for the production.
"Roman Banks: Smooth Criminal, the Fosse section. Smooth Criminal's Fosse. And the song, actually, Human Nature. Human Nature was challenging."
Smooth Criminal is one of my personal favorites and I love the Fosse style. I almost jumped up in my seat to sing and dance. Don't worry I didn't embarrass myself like that.
Having met Michael Jackson and his family during the early years I learned so much about him and his life from the National Touring company of MJ The Musical. They address his vitiligo and why he didn't mention it. How the Pepsi fire changed him, and there is even a little mention of Prince.
Roman Banks and this cast are so true to what they are giving us on the stage. Each character is important and embraces their characters.  In doing the role, what did Roman learn about Michael Jackson that surprised him?
"That he was a man of sacrifice. To have the biggest album in the world, people can't stop saying your name and screaming your songs, and to take the biggest moment of your professional career and your family tells you, "Hey, we know you've got this amazing thing going on for yourself, but what if we all went back and did what we did growing up for one more time?"
I don't know if I could have been able to do that. But it's still going back to a former self when you've elevated yourself to a position that no one has ever touched before. No one had touched that level of fame and notoriety. And to take that prized moment and to give it back to your family for their own success, or greed, or whatever you want to call it, that really rocked my world, because there is no Thriller tour. We have Off the Wall, and then we have the Bad Tour. We don't have a Thriller tour, and that's the best-selling album of all time. So, to take that opportunity and to give it to your loved ones and to say, "I'm going to get back to my own thing later," that takes a selfless man. And it ended in an unideal way. That tour never finished because of a fallout that happened within the family. But the fact that it happened at all, and he didn't say, "No bump this, I'm going to go tour my number one selling album." And he did the Victory Tour, and he did celebrate that moment with his family, and he did allow them to prosper off of what he was then creating for himself. That still shakes me to this day. And so, I'm like, "Wow, that's, that's a different level of generosity and love." And for better or for worse, he still did that.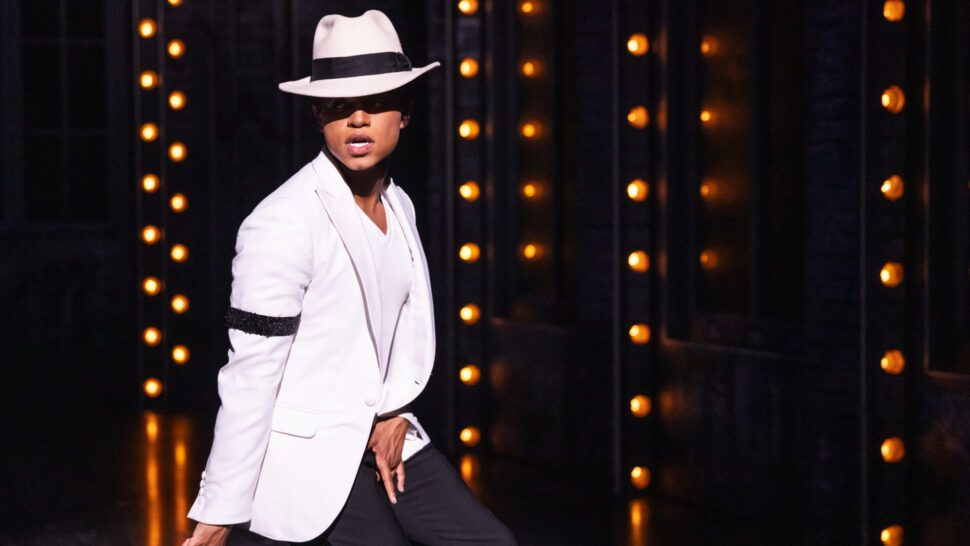 The last chance to see The National Touring Company of MJ The Musical in Chicago is September 2nd. It is a production I will remember for many years to come.
Until next time, keep your EYE to the sky!